Ad blocker interference detected!
Wikia is a free-to-use site that makes money from advertising. We have a modified experience for viewers using ad blockers

Wikia is not accessible if you've made further modifications. Remove the custom ad blocker rule(s) and the page will load as expected.
Here are the options you have to pick for the 4 different endings of Shall we date?: Destiny Ninja on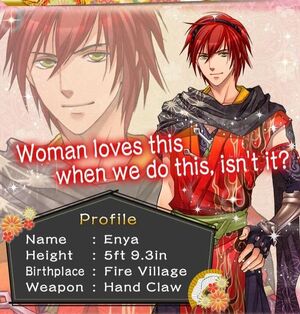 Enya's route.
Click here to go back to the main topic.
Lover Dovey leads to Secret Love Ending.Edit
If you completely follow below options there won't be any CG'S except for one CG at the ending.
1. It's rude.
2. It's not that I don't want it …
3. That is a lie.
4. Just a little.
5. Is it okay?
6. I don't want to.
7. That's awful!
8. It's not your fault. 
9. I've gotten used to you.
10. Thank you.
11. Don't ask that when I've been ill.
12. I don't know..
13. I respect him.
14. Isn't it hard to move?
15. I'm like a child.
16. Maybe I'm used to it.
17. Don't worry about me.
18. Hold Enya's hand.
19. I wonder how Yoshitsune is.
20. I became kinder.
21. I'm sorry.
22. Stay with me.
Dark Ending leads to Lovesick Ending.Edit
To get Dark Ending the heart on the Intimacy Level has to be in the green zone close to the lover dovey ending ( the heart has to be on one of the two spots on the left of the middle in the green zone ) there will not be a CG at this ending.
Secret Ending leads to Hidden Love Ending.Edit
To get Secret Ending the heart on the Intimacy Level has to be in the green zone close to the sweeeet ending ( the heart has to be on one of the two spots on the right of the middle in the green zone ) there will be a CG at  this ending. i don understan... :c