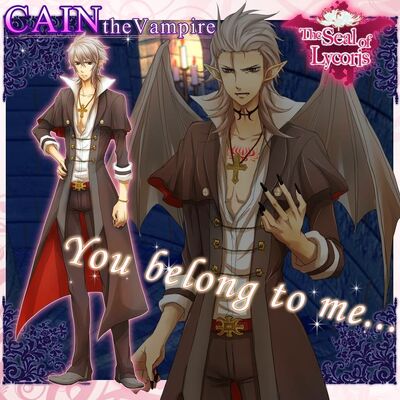 Walkthrough Cain
Edit
A walkthrough for Cain
Click here to go back to main topic
Good Ending
Edit
Chapter 2Edit
– ...But now that I think of it, why did he save me back there
– Is it because he wants to manipulate me for something else
Chapter 3Edit
– I'll raise my voice and pursue him with my question
– A clumsy person?
Chapter 4Edit
– It feels as though he is feeding me
– I don't know... I really don't know what to think
Chapter 5Edit
– It's regretful for me to die?
– Hug him from behind
Chapter 6Edit
– Maybe I will feel sorry for myself
– "I want you"
Chapter 7Edit
– He wants to change something with my powers?
– It's okay. If that's what he wants then he can kill me
Other Characters
Edit
- Yuie
- Tomoyuki
Ad blocker interference detected!
Wikia is a free-to-use site that makes money from advertising. We have a modified experience for viewers using ad blockers

Wikia is not accessible if you've made further modifications. Remove the custom ad blocker rule(s) and the page will load as expected.